We could find out many times that Italians can make great and usually beautiful audio devices on the example of several well-known brands, such as Sonus faber or Zingali. But there are also a lot of others that only few have heard of, and which definitely deserve attention. Fortunately for us, lovers of music and good sound, Polish distributors explore the Apennine Peninsula and come up with other, usually very interesting proposals. One of them is Norma Audio, which has only recently been available on our market. I wrote quite a lot about this company while reviewing the DAC, but since probably not everyone read that text, let me remind you of some basic information.
The Norma Audio brand is the property of Opal Electronics, which deals with the design and production of measuring devices. It has its headquarters in Cremona, the city of the most famous luthiers in the world. This makes it possible to presume that on the one hand, engineers designing subsequent devices for Norma can use the powerful technical facilities of the parent company, and on the other hand that they confidently feel the pressure of history and do what they can (conventionally) match Amatiem or Stradivarius. The company is headed by Enrico Rossi, a flesh and blood engineer who, however, emphasizes at every turn that the most important goal set for every Italian brand model is not to achieve some specific parameters (i.e. they are not, but they are not an end in themselves). The basic criterion for assessing every Norma product is the ability to correctly present ... vocals. It should be remembered that it is in the midrange, including vocals, that our ears are most sensitive, and additionally we are especially sensitive to human voices, because we listen to them a lot in everyday life (even if not necessarily singing). That is why every device of this Italian company is perfected until it not only achieves the appropriate measurement results, but the vocals will sound satisfying. This does not mean, of course, that only sung music should sound very good. Both on the example of the HS-DA1 VAR DAC and the larger IPA-140 integrated (which I also tested), I can confirm that these are universal devices that played every album superbly, every piece I threw them. Both of these products meant that each subsequent one with the Norma logo sets high standards from a machine, even if, as in the case of the IPA-70B, I am dealing with a lower model than previously tested. Let's finally get to the hero of this review.
Building
IPA-70B is an integrated transistor amplifier offering 70W of power per channel for 8Ω and 140W for 4Ω - in a word half as much as in the case of it's bigger brother IPA-140 model, although the power doubling for a lower load is noteworthy - this is usually a feature of amplifiers from a much higher shelf. Appearance is obviously a matter of taste, and I can only rely on my own judgment, which tells me without hesitation that the Italian integrated looks very nice, although there are no stylistic fireworks, but rather elegance achieved by simple means. The housing is made of aluminum, and it is offered in two colors - silver and black. The very thick front is decorated with a centrally located, silver, chrome volume control knob. On the left side there is a tiny window of the remote control receiver - which reveals that the device can be controlled by a remote control. This one is small, plastic, quite handy and versatile - it can also support other devices of this brand. On the right side of the knob there is the only tiny button that is used both to turn on the device (although the main switch is located at the back, next to the power socket) and to select the source (by repeated pressing and the device turns on / off a little longer by holding button pressed). Next there are a number of small blue LEDs, the first of which indicates that the device is turned on, and the next currently selected input. Both the front as well as the top and bottom are much wider than the actual housing in which the electronics are placed. Where did this idea come from? Well, one of the side walls (in IPA-140 both, and here the other is a normal, flat wall) of the amplifier is a large, black (the same in both color versions) heat sink. Thanks to the aforementioned wider casing elements, this radiator hides behind the front and between the lower and upper plates, without protruding beyond their outline. Optically, the heat sinks usually look great, for example in Pathos devices, but they often have sharp edges, which makes them difficult to carry and there is a risk of injury. In this case, the heat sink performs its function without posing any risk and remaining properly hidden - a clever and really great-looking solution. I would like to add that, as in the stronger integrated, here also the upper and lower housing plate have slightly rounded / convex side edges, which make the rear of the device visually look a little narrower than the front.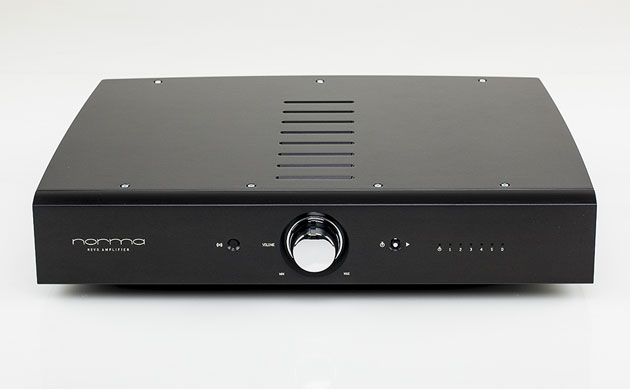 There are a total of 6 pairs of RCA sockets on the rear panel. There are four line inputs available, and the device can be equipped with an optional phono preamplifier module for MM and MC cartridges, which in this case uses one of these inputs. There is also one recording output and a Direct input that can be used to integrate the amplifier with a home cinema system.
Under the RCA sockets there is a grounding clamp used to connect the turntable. Next are solid, gold-plated speaker terminals and an IEC socket with a main switch. The information provided by the manufacturer shows that each MOSFET channel operates 6 MOSFET transistors. The manufacturer boasts a frequency range extended far beyond the audible band (up to 1MHz).
The electronic circuit is assembled on one printed circuit board with gold plated paths. The company reports that it has been developed for an extremely wide frequency response. The input is switched in relays with palladium and gold plated contacts. The strengthening system was largely enclosed in black cans. Only control transistors and power amplifiers are left outside. The power amplifier uses high-current MOSFETs working in a push-pull system, in AB class capable of giving up even 100A at the peak. The manufacturer indicates that the transistors are precisely selected and paired. The power supply system is solidly shielded and built around a large toroidal transformer (300VA) with three secondary windings. The device is controlled by a microprocessor, active only when issuing a command. It also switches on when overload or DC voltage is detected at the output.
Above the switching relays the board with an optional module is screwed - in the tested unit there is a phono preamplifier for MM and MC, PH1-REVO cartridges. High-quality elements were used in its construction. The user gets the opportunity to adjust the basic parameters - he can change the input impedance in four steps: 100Ω, 500Ω, 1kΩ, 47kΩ (it is also possible to set a different value after plugging the appropriate resistor into the system) and gain in 6 steps from 34dB to 52dB (one value can be selected also using an additional resistor). The only inconvenience for the user of this preamplifier is the need to remove the top cover of the amplifier to select and later possibly change the parameters for different cartridges. Both regulations are based on microswitches located on the boards. In most cases, this will not be a problem, because the setting for a specific insert must be done once and it can probably be done by the seller, if the buyer asks for it. However, people who have several inserts may complain a bit about this adjustment solution.
Sound quality
Before mentioning the sound itself, let me just mention that I listened to Norms in two systems. The sources in both cases were the same - my Big7 Lampizator with a dedicated PC as a USB signal source and a JSikora Basic turntable with a Schroeder CB tonearm, AirTight PC3 cartridge and ESELabs Nibiru phono preamplifier, LessLoss cables and speakers (not mine, but used from two DeVore Fidelity Orangutan 93. On the other hand, I also optionally used Trenner & Friedl Osiris loudspeakers supplied by the distributor and a completely new cabling (IC + speaker), which the same brand created in cooperation with Cardas.
As I have already mentioned, previous contacts with Norma Audio products came out great and aroused my appetite for further adventures with other devices of this manufacturer. Of course, in this case, you can't avoid comparing what I remember from listening to the more expensive integration with what I heard now. In that case it was simply fantastic, now it could be assumed in advance that it couldn't be that good, because it is a cheaper model, but the expectations on my part were high.
It turned out that the IP-70B did not disappoint! It is primarily an extremely musical device and it was this feature that caught my attention first. Calmness, composure, attention to detail without displaying them, playing rather even, although the accent in the lower midrange is easy to find. No elements that divert attention from music, no obvious weaknesses in presentation, but also the lack of cheap claptrap attracting attention, sometimes causing the effect "wow!", But in the long run tiring .
Smooth, smooth, colorful - that's how Italian integration plays. Heat? Yes, but not slowly, opaque or round. It's natural warmth, like any (acoustic) instrument that always sounds natural, pleasant to the ear, even if it balances on the edge of focus or plays very loudly. The more expensive IPA-140 integrated sound added to it a bit higher transparency of sound, but the 70's gives it only slightly in this respect.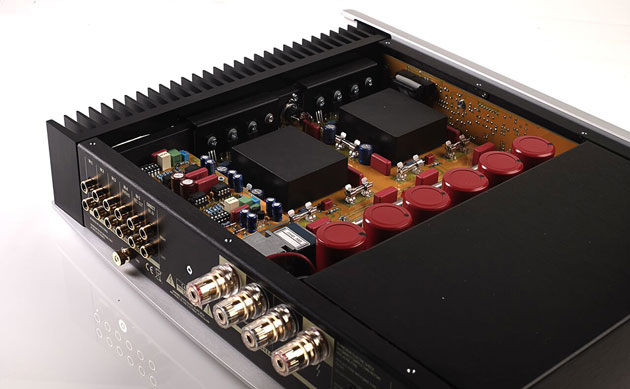 The presentation of the natural timbre of the instruments and voices is another extremely strong point of the integrated integrator. It so happened that I started listening from instrumental records - including Miles Davis, Coltrane, McCoy Tyner or Ray Brown. On each of these discs I had the same all-encompassing impression of the presence of the musicians and the naturalness of their instruments' sound. This impression of presence did not come from some outstanding three-dimensionality and tangibility of the presentation. In this respect, Norma gives way to the best tube SETs I know, to some extent also the 140's. But the lack of precise imaging or an extremely large scene does not preclude such a presentation. Do you hear a clear outline of each instrument at a concert? His accurately cut three-dimensional shapes from the environment? I do not. During the concert, we are assisted by other senses that tell us that the musicians are there physically, that each of them occupies a certain space on the stage, but this is not super-precise imaging. When you listen to recordings at home, other senses cannot help us much. But the IPA-70B belongs to those devices that "cheat" our senses very well and create a convincing impression of closeness with the musicians and their instruments. IPA-140, as far as I remember, built a slightly larger stage and separated the virtual sources a bit better, but the effect was similar and resulted in involuntary, full involvement in music. In the case of the smaller integrated, the ability to express the timbre of individual instruments was positively surprised. Whether it was Miles's trumpet, Coltrane saxophone, Tyner's piano, or Brown's double bass - I listened to each of them with bated breath and ants walking on my back. Insight into the color and texture of each of them brought to mind much more expensive constructions, each instrument breathed, played freely, a lot of small details and subtleties could be heard that many devices miss at this price level. Even the piano and double bass sounded powerful, powerful, offering full and sonorous sound.

The piano was a large, powerful sounding instrument, with a deep, sonorous sound and I received the double bass in the same way, in which the resonance box played its role superbly supported by quick, energetic jerks of elastic strings. Acoustic and classical guitars were equally natural and convincing. I couldn't refuse to listen to "Friday Night in San Francisco" with three brilliant guitarists playing live, attention was drawn to the naturalness, fluidity and energy of the sound. The IPA-70B has the fact that it focuses the listener's attention on the musical and artistic content of the recording, pushing the technical side to the background. Hence, even if the recording itself is not perfect, or Norma gives way to competitors in some less important aspects, we can notice it, but we immediately wave our hand that it is irrelevant and we do not go back to it. I mention this only from an obligation, but in practice I do not think that this smaller (than in the case of reference amplifier or more expensive Norma) separation or presentation speed disturb any music lover. Because this is an amplifier for someone who loves music, wants to experience it and have a good time with it. Fans of analytical reception of recordings will have to look for their favorite among other devices.
It is primarily an extremely musical device and it was this feature that caught my attention first
OK, but what about the vocals so important for the head of Norma Audio? In short, it is very, very good. I listened to a lot of jazz, classical and rock music, and even some pop ones (Michael Jackson or George Michael) got tangled up. The age of the recording did not matter, although its quality was, of course, the music genre. Good voices sounded great and fantastic - brilliant. My beloved Leontyna Price or the divine Luciano Pavarotia chained me to the armchair for long hours, during which I was satiated with the beautifully rendered color and texture of their voices, also with their purity and power. When the amazing Etta James or equally great Janis Joplin, and then Marek Dyjak, stood behind the microphone, I was playing in streams of hot emotions, in this amazing energy that these performers were able / able to transfer to the listener. Even in these not necessarily top flight recordings of excellent voices, such as George Michael or Freddie Mercury, I was able to forget about the sometimes poor quality of the recordings, focusing only on their enormous vocal possibilities. Without a doubt, the promise that Enrico Rossi makes in a way by offering each of his products is more than fulfilled. All good vocals are listened well, and when they are well recorded, listening to them becomes a real feast.
Finally, I changed part of the system as requested by the distributor. To Norma I connected Lampizator as the source and Osiris speakers using the cables of Messrs Trenner and Friedl (whom I will devote a separate review) from the same nice Austrians. The cables were created in cooperation with the Cardas company and this is actually what I knew about them at the moment. The very fact of cooperation with this brand is not surprising, because T&F gentlemen have long used American wires inside their loudspeakers, their speaker terminals, and additionally the Pharoah or Osiris models have casings based on "golden proportions" propagated by Cardas. Osiris is the latest addition to the offer, a bit similar to another model that I was lucky (because I liked it) to test, i.e. to the already mentioned Pharoah. The new model is smaller - these are really small floors, just like two-way Pharaohs. They have housings with a wide, by today's standards, front that is slightly tilted back. Both speakers are hidden under a common, round grille, which gives the impression of a column with a single driver.
As I mentioned earlier, these are small columns that probably work best in rooms with an area of ​​several meters, although my 24-meter (with a height of over 3m) room could fill with sound. With the tested Norma, the tonal balance shifted up slightly compared to the Orangutans. It's natural, because the speakers are smaller and have a smaller woofer (6.5 '' vs 10 ''). Inevitably, there was some depletion of the bass base due to the limitation of the speakers, but this in turn allowed me to pay more attention to what was happening in the band above. The upper midrange and treble started to glow with full splendor. The thing is not about brightening or sharpening the sound, but about the brightness, clarity, transparency and surprisingly high resolution of this part of the band. Until I had to go back to the previous set to check if the presentation of this part of the band was similar and in fact it was, even if I did not pay attention to it before. I returned to the Osiris once again to enjoy the openness of the sound, well-rendered room acoustics, reverberation, reverbs, and a lot of air around the instruments.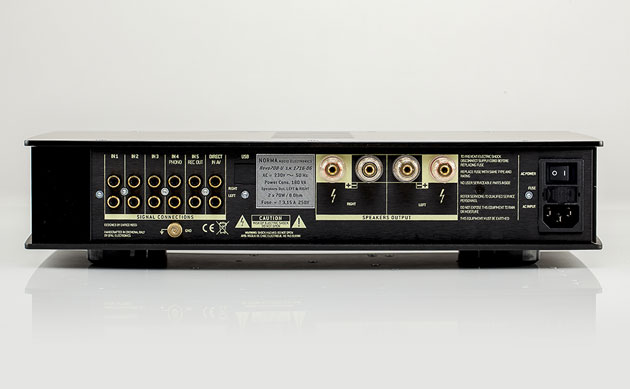 It was all present with the Orangutans, except that both presentations differed slightly in accents and there these elements co-created a larger whole, but here they came to the fore thanks to the tonal balance set above. In a smaller room, it would probably even level out a bit, because the role of the lower part of the band increased, but for me it played that way. It was still a smooth, coherent, colorful presentation with a lot of emotional load, and therefore addictive. You listened to this brilliantly, though the accents were slightly differently focused on other elements. However, when the music began to play, at least the well recorded one, it ceased to have any significance. With Austrian speakers connected to the IPA-70B, I also spent many hours listening to music just for pleasure, although with them I was a bit more inclined towards jazz, vocal or small classics. Why? For two reasons. First of all, these types of music are usually well recorded, and Osirisa, as it turned out, was a bit more ruthless for weaker recordings than Orangutans. In other words, the latter earlier tempered the Norma Audio integration tendencies a bit, not giving it as clearly show sharpenings, brightening or sibilants as it happened with Austrian speakers. Secondly, the leaner bass base (in combination with the smaller tolerance for worse recorded recordings mentioned in the first point) did not encourage so much to listen to rock or Mahler, although it did not prevent it. For my feeling, because I didn't check it, this set in a 15-20 sqm room would work great and would be as universal as connecting Norma with the Orangutans in my larger room. Lovers of jazz, blues, vocals or even smaller classics may not care about the size of the room (i.e. as a matter of common sense), because the combination of Norma with T&F loudspeakers is extremely accurate.
Summary
Time and time again I test devices of the same type from one manufacturer in the order from more expensive to cheaper. Usually, however, this is associated with some disappointment, because the differences in favor of the former are usually clear, and yet you would always like to have almost the same sound for a lot less money. In this case, the differences, and yes, are - the IPA-70B is a bit less dynamic, it does not offer such good separation, a slightly lower resolution, purity and the sound is warmer. It's just that the price difference is big, and the cheaper IPA70 amplifier sounds so musical, natural and engaging that these differences in everyday listening do not matter. We get a large, dense, coherent and energetic sound. The presentation of the stage is not as precise as with it's bigger IPA-140, but this is again not really perceived as a disadvantage, because the stage is magnificent, the depth cannot be accused, the acoustic environment of the musicians is well shown, and the virtual sources themselves, although not so precisely described in space, they create this extraordinary impression of presence, which translates into close, even intimate contact with music. So who cares that the contours are not precisely outlined? The more that Norma also transmits a lot of information in the upper part of the band - everything that is related to the recording acoustics, reverb, decay, and openness of the sound can easily be found in this presentation. The drum cymbals are voiced, have mass, resonate, the triangle delights with its vividness even against the backdrop of a great symphony orchestra. A lot depends on the speakers connected to this integrated - with bigger ones it will play with full, energetic sound, and with more analytical ones it will show a slightly more ruthless face, showing dryness, brightening or sharpening of the sound occurring in weaker recordings. It only shows that it is a complete amplifier that can do anything. And yet it still offers this excellent presentation of vocals ... The best in the world? Of course not. But in the range of up to 20,000 there are not many competitors.